Promoting Great Landscaping
The Evergreen Foundation is a non-profit foundation formed under the New Hampshire Non-Profit Corporation Act in 2016 and recognized as a federally tax-exempt foundation under Section 501 (c) (3) of the Internal Revenue Code in 2017.
The Foundation was formed to "own, maintain, and preserve" Evergreen, the one-acre woodland garden on Summer Street, in Goffstown, New Hampshire, for the benefit of the public; and to undertake public education in horticulture and landscape design through the garden, lectures, and the Landscape Lyceum, the Foundation's extensive on-line landscape information and education forum.
The Foundation regularly opens Evergreen to the public without charge, including every year on the first weekend in June, when its 220 Catawba rhododendrons are in bloom, thus continuing a tradition began by Robert Gillmore, the creator of the garden, in 1994. See Opening Dates and Times. 
The Foundation also opens Evergreen, without charge, during the New Hampshire Open Days programs of the Garden Conservancy. (More information about the Conservancy is available on its website, www.gardenconservancy.org.)
The Foundation is governed by its Board of Directors: Robert Gillmore, of Montgomery Center, Vermont; Claire A. Baker and Dennis Hooper of Goffstown, New Hampshire; Robert M. Lux of Bow, New Hampshire; and Eileen Oktavec of Montgomery Center, Vermont. Robert Gillmore is president of the Foundation; Eileen Oktavec is vice president; Dennis Hooper is treasurer; and Claire Baker is secretary.
You can contact the Foundation on line at:  evergreenfoundationnh@gmail.com, by mail at PO Box 410, Goffstown NH 03045-0410; or by phone at 603-497-8020
Tax-deductible donations to the Evergreen Foundation are very much appreciated and may be sent to the mailing address above.
You may also support the Foundation, as a volunteer or donor, by joining the Friends of Evergreen. 
The Foundation is a member of the American Rhododendron Society.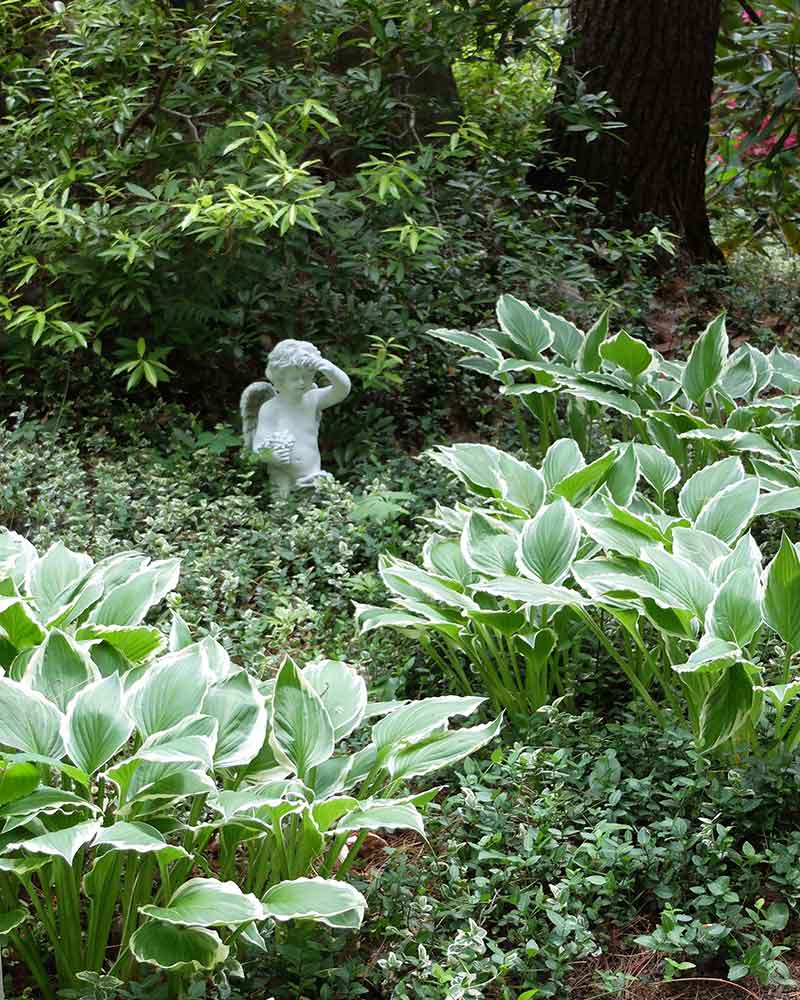 Photo by Eileen Oktavec
A cherub looks out over variegated hostas and euonymus in Evergreen's White Room